MILLION DOLLAR CLUB, BRONZE PRODUCER AWARD 2022
---
I am beyond thrilled to share with you that I have been awarded the prestigious MILLION DOLLAR CLUB, BRONZE PRODUCER AWARD 2022 for my outstanding sales performance in the residential real estate market in Florida. This is a significant achievement, and I am deeply grateful for the recognition.
I want to express my heartfelt appreciation to each and every one of my past, current and future clients, who have placed their trust in me to help them with their real estate needs. It is an absolute privilege to work with you and to be part of your journey towards finding your dream home or selling your property. Your satisfaction and happiness are my top priorities, and I am honored to have played a role in making your real estate dreams a reality.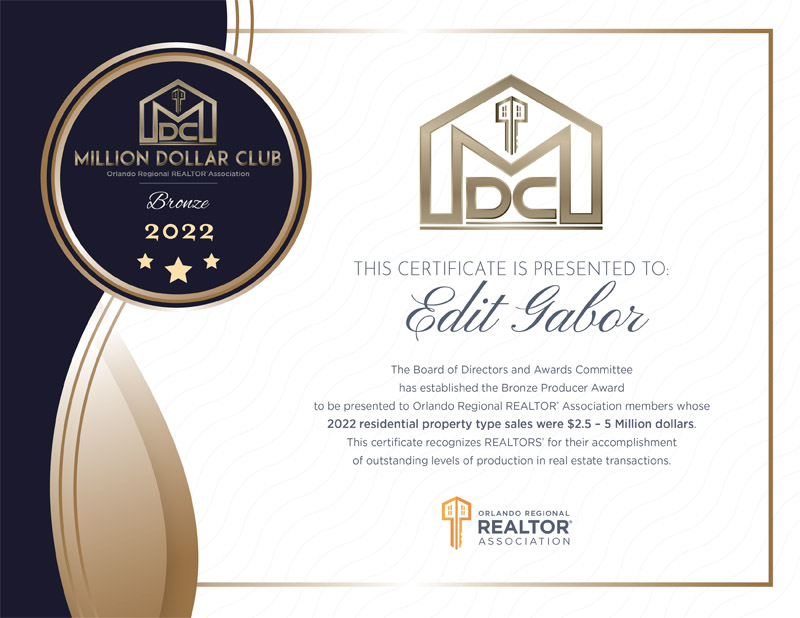 I also want to extend my gratitude to my family and friends, who have been my unwavering support system throughout my career. Your continuous encouragement and belief in me have been instrumental in my success, and I cannot thank you enough for your love and support.
This award is not just a recognition of my sales performance, but also a testament to my commitment to providing exceptional customer service, integrity, and professionalism to all my clients. I assure you that I will continue to work tirelessly to maintain the highest standards and to exceed your expectations in every way possible.
Once again, thank you for your trust, loyalty, and support. I look forward to serving you in the future and to creating more success stories together in 2023 and beyond.
Rail Line From Orlando To Tampa Gets Boost
---
Brightline got the green light Wednesday from the state to negotiate for land to add high-speed passenger rail service from Orlando to Tampa --- a link envisioned to eventually connect with Brightline's existing service in South Florida.
The Florida Department of Transportation's procurement office approved an application from Brightline, giving it 90 days to work out terms with the Central Florida Expressway Authority to build the train service along Interstate 4.
Brightline President Patrick Goddard said the company looks forward to working with the expressway authority in "strengthening Florida's infrastructure" and called the proposal the company's "next step in our efforts to expand intercity passenger rail in Florida."
"The private investment we have made has created thousands of jobs and generated substantial economic impact," Goddard said in a prepared statement after getting the Department of Transportation approval. "By connecting Florida's major economic centers, Brightline provides a safe, efficient and productive way for residents and tourists to travel the state.
"As part of its application, Brightline projects the 88-mile route, which would require 44-foot-wide spaces mostly along Interstate 4, would produce about 16,500 temporary jobs during the three years of construction. It would produce about 1,600 permanent jobs, and stations would be expected in Orlando, Tampa and the Celebration and Lakeland areas.
Additional negotiations are expected by the privately funded rail service with utilities, local land owners and communities along the route --- which would go from Orlando International Airport, through Osceola and Polk counties, to downtown Tampa.
"For us right now, our biggest involvement is this (Wednesday's approval)," Department of Transportation spokesman Ed Seifert said. "Without this, they don't have a line."
Brightline, which now operates between Miami and West Palm Beach, recently signed a deal with new minority investor Virgin Group, with Brightline planning to rename itself Virgin Trains USA. As part of the move, Virgin Trains USA is seeking Securities and Exchange Commission permission to conduct an initial public stock offering.
The idea of a rail line linking Tampa and Orlando was rejected by Gov. Rick Scott in 2011 when it was part of a federal expansion of high-speed rail. Scott expressed concerns at the time about cost overruns in the $2.4 billion proposal. But Scott in June announced his administration would seek proposals for an Orlando-to-Tampa route, pointing to the possibility of a privately funded project.
Brightline was the only company that submitted a proposal.
Wednesday's approval came amid renewed pressure from Treasure Coast lawmakers to pursue more state oversight of the passenger rail service.
Past efforts to impose more regulatory oversight have stalled in the Legislature. But going into the 2019 legislative session, Treasure Coast lawmakers will be armed with an Oct. 31 report from the Legislature's Office of Program Policy Analysis and Government Accountability that said the Department of Transportation wasn't using fully using its regulatory authority.
Officials from Martin and Indian River counties brought lawsuits against the service and earlier this year opposed the U.S. Department of Transportation giving Brightline until the end of the year to sell $1.15 billion in tax-exempt "private activity" bonds for the expansion to Orlando. Martin County, however, accepted a settlement Saturday with Brightline.
Source:  https://www.orlandosentinel.com/news/transportation/os-ne-brightline-train-orlando-tampa-20181128-story.html
Tips To Avoid An Appraisal That Comes In Too Low
---
Many buyers are offering more than the asking price on properties undergoing bidding wars – but when the appraisal finds the true market value of the home, they may find that they've agreed to pay too much.
Home sales commonly fall through when a property appraises for less than the price the buyer offers. The seller may be unwilling to accept a lower offer, and the buyer may then decide the deal isn't worth it.
Appraisal issues are still one of the most common causes of delayed settlements, according to March data from the Realtors® Confidence Index. Real estate professionals reported that appraisal issues delayed 19 percent of closings in March – the second most reported problem behind "issues related to obtaining financing." Bankrate.com recently offered some tips for protecting transactions from low appraisals.
Buyers should ask their lender to find an appraiser who works regularly in the county where they're purchasing. Appraisers who know the area are less likely to evaluate properties based on flawed data. Buyer's agents should also be present during an appraisal appointment in order to provide the appraiser appropriate comps and explain any information that could be skewing the comps.
In some cases, sellers are being preemptive – getting an appraisal before listing their home and using that appraisal to set a realistic list price. If they've done this, they'll should give a copy of their prelisting appraisal to the buyer's appraiser.
Clients can also contest a too-low appraisal. The appraiser or a supervisor may agree to consider any new or overlooked information when an appraisal has been questioned.
SOURCE: NEW YORK – May 7, 2018 – http://www.floridarealtors.org/NewsAndEvents/article.cfm?p=3&id=365988
10 Reasons Why For-Sale-By-Owners (FSBOs) Fail
---
Homeowners trying to sell their homes on their own — for-sale-by-owners (FSBOs) — are driven by several reasons. Although most of them want to save money that they would have otherwise spent on real estate commissions, a few others take the FSBO route because they feel they don't need a professional to sell their home.
Whatever the reason for attempting to sell solo might be, data from a National Association of Realtors survey shows that less than 10 percent of all home sales are FSBOs.
Top reasons why FSBOs fail in real estate
There are a lot of reasons why For-Sale-By-Owners fail and do not sell. Some of the top among these are:
1. Too many people to negotiate with
Those deciding to take the FSBO route often have to negotiate with many people. Some of them are likely to be:
The buyer, seeking the best possible deal.
The buyer's agent, who represents the buyer's best interest.
The buyer's attorney (in some regions of the nation).
Home inspection companies, working for the buyer, which are likely to find some problem or the other with the house.
Your bank, in case it's a short sale.
The appraiser, if the home's value needs to be assessed.
Without the help of experienced real estate agents, dealing with so many different parties alone is often a tough task for homeowners.
2. Homeowners do not know how to prepare the home for sale
A majority of homeowners don't know about the prelisting tasks that FSBOs should do before they list their home for sale. These usually include:
Decluttering.
Painting the rooms with a fresh coat of paint.
Getting necessary repairs done.
Getting the home floors and carpets cleaned by professionals.
Ensuring curb appeal of the home.
Replacing outdated light fixtures.
Because homes for sale by owners just have one chance to impress potential buyers, neglecting these home sale preparation tips often reduces the homeowners' chances of selling the house.
3. Owners do not know how to screen potential buyers
FSBOs often have no idea about the difference between prequalification and preapproval, and they don't know that buyers should ideally be preapproved or at least prequalified.No wonder they let unqualified buyers inspect the house and waste their precious time. Not knowing if a buyer has the ability to purchase the home acts as a big deterrent for homes for sale by owners.
4. Owners fail to solve buyer's queries
Handling inquiries from buyers on their listings and coordinating showings for their homes are prerequisites for making a sale. However, many homeowners either aren't able to handle such inquiries on their homes or don't have the time for them. Even organizing showings might become an uphill task at times. Because these days potential buyers and their agents want quick responses to their inquiries, they don't think twice before moving on to the next potential property if their inquiries and requests are unanswered.
5. Owners don't understand the concept of 'golden time'
According to this concept, homeowners get the most money for their homes in the first week of putting the property on the market. The longer FSBO homes stay on the market, the less money people will be willing to offer for them. If a seller tries FSBO before hiring an agent, the seller loses the "golden time" window. This will eliminate buyers who have already viewed the home and might have made a reasonable offer — but have already moved on.
6. Owners fail to understand the contract procedures
The contract to buy a home involves much more than just the price offered by the buyer. Also, real estate contracts have lots of timelines and clauses and involve several common contract contingencies, such as inspections and mortgages. Many FSBOs don't have a firm understanding of such contracts and might not know what they are agreeing to or how to negotiate particular parts of the contract.
7. FSBOs don't know how to handle the home inspection findings
Home inspections almost always find some issues with houses even when they are relatively newer structures. In such cases, the buyer requests problems be fixed or corrected before moving forward with the transaction. However, many FSBOs believe that there is nothing wrong with their home, which is why they refuse to address the issues brought forward by home inspections. As a result, the offer falls through.
8. FSBOs incorrectly price their homes
FSBOs often price their homes incorrectly due to lack of experience. They set the price too high, which hinders their chances of closing the deal.
9. FSBO homes lack exposure
Homes for sale by owners are often listed on a few websites, but there are many that don't allow FSBOs to list their property. Thus, FSBOs are unable to give their homes adequate exposure in the market. However, when sellers hire a real estate agent, the professional can give a property comprehensive online exposure as well as exposure in the local real estate segment of the newspaper. The agent even has tools to extend the exposure further, which FSBOs don't have.
10. FSBOs fail in the closing process
Even after an offer is accepted, many things still need to be done prior to the closing. For instance:
Get the inspections completed within the allotted time.
Ensure the attorney(s) approve contracts.
Ensure that instrument survey is ordered.
Check if the buyer has obtained written mortgage commitment.
Find out if title work is reviewed.
Learn whether abstract is redated.
With so many things acting against FSBOs, it's natural to find very few homes for sale by owners in the market. 
SOURCE:  https://www.inman.com/2015/07/20/10-reasons-why-for-sale-by-owners-fsbos-fail/
7 Things You Probably Don't Know About Orlando
---
Orlando is well known around the globe - just say our region's name and everyone can tell you exactly where we are on the map - but Orlando is poorly understood. With more than 66 million visitors a year, this is the theme park capital of the world. However, hospitality and leisure only make up one-third of the jobs in the Orlando region. That means a majority of our workforce, the remaining two-thirds, work in industries outside of tourism. Orlando's economy is thriving and we're now leading the nation, among the top 30 metros, in job growth and population growth.

Here are a few more facts that will up your Orlando knowledge score:
1. Orlando is home to Innovative technology companies in the areas of cyber security, game, mobile app and software development, data analytics, financial technology and more.
2. Orlando was just named the No. 1 best foodie city in America thanks to the 5,000+ restaurants that include a high concentration of James Beard Nominated/Affiliated Chefs and a number of AAA Five and Four Star-rated eateries.
3. Orlando is the Modeling, Simulation & Training capital of the world with $4 billion in annual simulation contracts that flow through the region each year. Organizations like the National Center for Simulation and TEAM Orlando foster connections between the military, government, MS&T related companies, and higher education.
4. Olympic athletes call Lake County the "Choice of Champions" because of state-of-the-art sports facilities like the National Training Center. Twenty athletes, trained at the center, competed in the 2016 Olympic Games in Rio de Janeiro, Brazil brining home 10 medals.
5. The world's first international consortium for advanced manufacturing research is being built in Osceola County. ICAMR will provide lab space for research into next-generation smart sensors that connect everyday devices to the Internet of Things (IoT).
6. Orlando has a robust film industry with hundreds of productions happening in the region every year. You've probably seen the hilarious Chrysler Pacifica commercials starring Jim Gaffigan or the Disney film Tomorrowland starring George Clooney.
7. Orlando was the first American city to host Prince Harry's International Invictus Games in 2016. The Olympic-style games included more than 500 competitors from 15 nations – all injured active duty and veteran service members.
Source:  http://www.orlandosentinel.com/brandpublishing/os-7-things-you-probably-don-t-know-about-orlando-20161216-story.html
Four Reasons Luxury Real Estate Will Flourish In 2017
---
NEW YORK – Jan. 16, 2017
This year will bring its share of exciting developments, innovative design, progressive trends and brand new technology to the high-end real estate market.
There is never a standstill in this upscale industry. Here are four reasons why it will flourish.
New mortgages
During 2017, it will be easier for buyers to finance their luxury real estate purchases.
Beginning this year, government-owned mortgage companies Fannie Mae and Freddie Mac will provide backing for larger mortgages for the first time in more than 10 years.
Foreign buyers
International buyers still want U.S. luxury property, and they are expanding their horizons.
Foreign purchasers continue to seek out luxury real estate in major American centers. Yet they are also showing interest in high-end homes in other metropolitan regions across the nation.
International buyers are going far beyond their own borders to find safe investments. Like any homebuyer, they look for affordable prices and the best return, including long-term growth opportunities.
Foreign purchasers crave the luxurious lifestyle and ultimate security that come with a high-end home in an affluent neighborhood.
This wealthy group is not expected to lose interest in U.S. luxury real estate anytime in the foreseeable future. Both Europe and the U.S. will continue to attract increasing amounts of foreign capital, especially from Asian buyers.
Historical growth
During the next 12 months, the ultra-luxury market should see more affordable prices.
Keep in mind that consistent and steady growth is a good thing. Indeed, this circumstance follows frequently behind periods of high asking prices and decreasing absorption numbers.
Post-election period
Following all the preoccupation and distractions that emerge during any election period, things return to a more leisurely pace after a campaign and its results.
The post-period becomes a time of restoration for the campaign-weary when ones thoughts turn closer to home. A final resolution can restore certainty to a sector, and uncertainty can be replaced with new development.
Toward the end of 2016, there was a spike in contracts for New York City real estate valued at more than $4 million. According to the weekly Olshan Luxury Market Report, the last week of November recorded a $371.6 million year-high for contracts in the Big Apple.
As well, the Olshan Report for the first week of January noted that 26 contracts of $4 million or above were signed during that period in New York City.
This data makes January 2 through 8, 2017, the best first week of a new year in three years for ultra-luxury residential properties in New York City. In addition, more development is expected in the lower end of the luxury market.
Elsewhere in the nation at this time there is also a robust market, for example, in Miami. Of course, waterfront real estate enjoys consistent popularity, but now non-beachside mansions are equally attracting the eye of the luxury buyer.
Source: http://www.floridarealtors.org/NewsAndEvents/article.cfm?id=347127
Olrando Is World Halloween Capital
---
Orlando has been dubbed the world's Halloween capital in a new marketing campaign to lure more tourists and scare up some extra business. Visit Orlando is promoting events on social media, arranging press trips and hosting a Halloween landing page on its web site. The convention and visitors bureau has never branded the region this way before, Chief Executive Officer George Aguel said.
"We needed to pull this together in one big overarching way," he said. "We don't see any place that could even come close to the magnitude of how we celebrate the Halloween period like we do in Orlando."
Visit Orlando wouldn't say how much it is spending on the campaign, which effort comes during a year in which Orlando hotel occupancy and theme parks' attendance has been down. Aguel said the new marketing effort wasn't driven by this year's attendance. That's part of what we do for a living, is seek out opportunities to keep refreshing and reminding the consumer audience" about reasons to visit, he said.
Spending on Halloween has increased as horror pervades pop culture and grownups seek the fun of dressing up on what used to be primarily a kids' celebration. The holiday is expected to generate $8.4 billion this year, the National Retail Federation says.
Orlando's attractions have added more frightful festivities and stretched out celebrations into late summer. Mickey's Not-So-Scary Halloween Party at Walt Disney World started Sept. 2 this year. It started Sept. 15 last year. The event will run for a record 29 nights. (Disney will also hand out the most candy ever — 350 tons.)
And many theme parks began promoting Halloween several weeks earlier than usual, said Dennis Speigel, president of consulting firm International Theme Park Services.
The witching hour is a lucrative time. Bigger attractions' tickets cost anywhere from $56 to past $100. The parties happen after dark, meaning the theme parks essentially get two rounds of admission revenue each day, University of South Carolina assistant professor Scott Smith said. And upgrades such a dessert party at Disney or a new virtual-reality experience at Universal will cost parkgoers extra.
Universal Orlando's Halloween Horror Nights has been a staple since the resort's 1990 opening. It has turned into a massive undertaking, featuring nine haunted houses mostly themed to scary TV shows and films. Planning for next year's event will start soon after the last creepy character wipes off his makeup. The event will run a record 31 days this year. "It really has grown to that point where it takes a year to execute a 31-day event," Universal senior vice president of entertainment Jim Timon said. Creative executives have much more material to work with these days, Timon said, pointing to TV shows such as "Walking Dead" and "American Horror Story." Both are featured in Universal's haunted mazes this year.
Universal hires about 1,100 seasonal employees for Horror Nights. About 2 million people attend the event at four Universal Parks and Resorts locations around the globe. Some, such as Joe Matt, travel here from out of town. Matt, an engineer from Akron, Ohio, visits annually with friends who work with him on a theme-park blog and podcast. Though he's not a big horror fan — a margarita from Universal's Mexican restaurant gives him the courage to enter the haunted houses — "it turned out to be way more fun and cool than I thought it would be," he said.
Filled with nightmarish scenes of blood, masked murderers and chainsaws, Horror Nights carries a recommendation to leave kids under 13 at home. The party Disney debuted in 1995 is more cute than creepy, and considered appropriate for young ones. SeaWorld's Halloween Spooktacular is also kid-friendly, with arts and crafts and sea-themed characters. This year it added a Cookie Monster meet-and-greet for $19 extra.
Smaller attractions are also looking for new ways to attract visitors. Old Town in Kissimmee this year is introducing a zombie tag game, for an additional charge. "We wanted to add some other elements other than your typical haunted houses," marketing manager Todd Larkin said. Also, a year-round haunted house that closed at Old Town this year will reopen under new management and a new name, Mortem Manor, on Oct. 1.
Nearby, a huge horror convention called Spooky Empire has moved from the Hyatt Regency Orlando to the Orange County Convention Center to accommodate attendance growth. Spooky Empire owner and organizer Petey Mongelli said ticket sales are brisk, despite moving the event from Halloween to early October to accommodate the convention center's schedule. The event attracted 12,000 people last year. This year, Mongelli said he thinks it could reach 20,000. The show moved from South Florida to Orlando 14 years ago. Being in the nation's theme-park capital feeds on the other local haunts' success, Mongelli said. "Orlando's central for everybody. We draw from all over Florida," he said. "Of course we get all the tourists too. I think this year we sold more tickets from London than we've ever sold."
Source:
http://www.orlandosentinel.com/travel/attractions/os-orlando-halloween-capital-20160924-story.html
Profile Of International Home Buyers In Florida 2015
---
The Research Division of the National Association of REALTORS®, in cooperation with the Florida REALTORS®, has conducted an annual survey of purchases of existing homes by international clients  since 2005. Florida is one of the major U.S. destinations of international residential real estate buyers. Approximately 25 percent of foreign home buyers purchasing U.S. property buy Florida properties. The 2015 survey shows that foreign sales remain an important segment of Florida's residential market:
 

International unit sales totaled 44,000 properties, 12 percent of Florida's residential market, compared to four percent nationally.
The dollar volume of international sales totaled $23.7 billion, 24 percent of Florida's residential dollar volume of sales (19 percent a year ago), compared to eight percent nationally.
69 percent of Florida REALTORS® have international clients (52 percent a year ago), compared to the national average of 35 percent.
31 percent of Florida REALTORS® reported having more than five clients (19 percent a year ago), compared to the national average of 15 percent.
Among respondents who worked with a client, 78 percent reported having closed at least one sale (75 percent a year ago), compared to the national average of 56 percent for those working with an international client.
Respondents reported a significant increase in the share of buyers from Latin America to 56 percent (23 percent a year ago).
Approximately 50 percent of foreign buyers purchased in Miami-Miami Beach (36 percent) and Fort Lauderdale (14 percent).
Foreigners purchased property at the average price of $538,600 ($300,600 in 2014), compared to the median price of Florida's residential sales of $258,200. The substantial change in average price appears to be due to market mix.
Approximately 63 percent reported that their clients found Florida properties less expensive than comparable properties in their home country (76 percent a year ago).
Approximately 29 percent reported that an increase in the percentage of business that is international in the past year (45 percent a year ago), compared to the national average of 13 percent.
Approximately 66 percent of Florida's foreign buyers purchased property for use as vacation, residential rental, or both.
Nearly half of foreign buyers in Florida bought a condominium/apartment. Foreign buyers are more likely to purchase condominiums as well as townhouses/row houses since the owners are not staying at their property all year round.
The most important factor influencing a client's decision to purchase Florida property appears to be primarily tied to the security and profitability of investing in Florida property, cited by 51 percent of respondents. This is consistent with the findings of this and past surveys that show majority of buyers are purchasing property for rental purposes.
About 41 percent of Florida REALTORS® respondents reported Florida's desirable location as the most important factor, also consistent with the finding that majority of foreign buyers purchase property for vacation use.
Foreign buyers typically purchased properties that were more expensive than those purchased by the typical Florida domestic buyer. The average price of a property purchased by the foreign buyer was $538,600, compared to the average price of $258,200 in Florida's residential market.
Miami Real Estate Is Booming Again
---
Miami has, and continues to be, the front door for all Latin-Americans, especially Brazilians, for holidays, investments, or moving to this city. The Brazilians still lead in this sector. Miami, as a city, represents what Brazilians are looking for — a beautiful place that Is considered the perfect paradise for buyers, while adding to this — the comfort and security that Miami offers. The city is the number one destination for Brazilians. The Greater Miami & Visitors Bureau maintains that Brazil is the first partner of Florida, either in investments or buying.
To some, Miami is their living address. To others, the second residence for vacations.
Regarding investors, a huge percentage of wealthy Brazilians are here to buy luxury real estate. For them, Miami represents a secure place where they invest their money without the fear of any instability or fluctuation of the market. It is an investment that guarantees good return. Many of the biggest developers in Miami target Brazilian buyers. They still are on the pole-position as first buyers in the luxury category, followed by Russians, Canadians, and Americans. In each new development, it is almost sure that between 20 to 30% will be acquired by Brazilians. The year of 2013 was no surprise when 43% of the entire inventory of luxury real estate was sold to Brazilians.
Those condos offer beauty, comfort, and sophistication. They also provide services with spectacular infrastructures like St Regis in Bal Harbour, Regalia in Aventura, Jade Resort, Trump Towers and Acqualina in Sunny Isles. In the Luxury category, there are many projects in Miami ranging from 4 million, the cheapest, to more than 60 million dollars. The signature of those beautiful projects come from the best architects in the world — Swiss, Italians, Argentinians, and also the Brazilian architect João Armentano. They all are the "brains" behind the beauty that soon will embellish Miami.
Among new projects, like Porsche Design Tower launched by Group Dezer, has the innovative Dezervation (lift). It is a new concept that allows its owner to park the car in the front door of the unit with complete privacy. Another great project in Sunny Isles is the newest and recently launched Turnberry Ocean Club from Turnberry Associates. The Soffer family has more than fifty years of building and innovating significant projects. In their portfolio are Aventura Mall, The Fontainebleau Hotel, Turnberry Isles Resort, Porto Vita, and others in the cities of Las Vegas, Washington D.C, and the Bahamas.
In this spectacularly new development, the famous architects Carlos Zapata and Robert Swedroe, have projected the "Sky Club" for Turnberry Ocean Club. Sunny Isles is considered the "Millionaires Road," and this new project will have a unique "Sky Club" within an area of 3000 m2. Certainly it will have the best sunrises and sunsets of Sunny Isles. Turnberry is a ten billion dollars portfolio company.
Zaha Hadid, the great "Dame" Architect, and the only woman to win the most significant Pritzker Prize twice, was also signing one of the most incredible projects in Miami. It is the One Thousand Museum Tower. Recently launched, it will have sixty-two floors of pure luxe with prices ranging between 5.7 to 49 million. Zaha is internationally well known for her futuristic designs. The building will be the first one in Miami to have its own heliport. Unfortunately, the world lost the acclaimed Zaha who came to inspect the construction and died suddenly on April 16. Her creations will remain.
Miami exerts a strong attraction to the ones who love diversity. The sun, the beaches, and its multicultural flair, made Ugo Colombo, from Milan, choose to stay. He came to study at the University of Miami in 1983 and never left. Ugo is a pioneer in the skyline of Miami. In the financial heart of Miami, Brickell Avenue, are some of the most beautiful buildings developed by his company, including Bristol Tower, Santa Maria, Epic Residences, and the recently launched Flatiron.Flatiron will have 549 units. It will be the last construction on Brickell Avenue and has been projected to have a 360-degree panoramic view. It will be at 736 feet street level.
Miami is flourishing again with luxury and superb buildings. In Ugo word's "Miami has evolved into one of the leading world markets of luxury living."
Read the source:
http://www.inreviewbyamericanskymedia.com/miami-real-estate-is-booming-again/#more-671
International Buyers Make Up 36% Of All South Florida Real Estate Sales
---
International buyers accounted for $6.1 billion or 36 percent of South Florida's home sales in 2015, according to a report released on Thursday.

From September 2014 to August 2015, foreign buyers picked Florida above other states when buying homes. Venezuela, Brazil, Argentina, Colombia and Canada accounted for 62 percent of those sales, according to the 2015 Profile of International Home Buyers by the Miami Association of Realtors and the National Association of Realtors.
The survey covers Miami-Dade, Broward, Palm Beach and Martin counties, finding that Florida leads the country with 21 percent of the nation's foreign purchases. Miami and Fort Lauderdale accounted for a whopping 50 percent of the state's foreign sales.Based on dollar amounts, 79 percent of international sales were in Miami-Dade, followed by 18 percent in Broward and 2.7 percent in Palm Beach.
Foreign buyers in South Florida tend to spend more than domestic buyers, according to the report. And 75 percent of their purchases are made with all cash.
Here is a breakdown of the top countries investing in South Florida, including Martin County:
Venezuela
Brazil
Argentina
Colombia
Canada
Mexico
France and Italy
Ecuador
Spain
Russia
In Miami-Dade, Venezuela, Brazil, Argentina, Colombia, and Italy and Mexico led the list. In Broward, Canada and Venezeula, Colombia, Argentina, Brazil, and India and Russia were the biggest international buyers. And in Palm Beach, Canada and Brazil were the top countries of origin for real estate buys. – Katherine Kallergis
Read more at source:
http://therealdeal.com/miami/2016/01/21/international-buyers-make-up-36-of-all-sofla-real-estate-report/#sthash.VJiRaEen.dpuf
Disney Getting Set For New Soarin' Ride At Epcot
---
The popular Epcot attraction has been closed since early January, preparing for a new version of the film that will take riders on a global journey and prompting a new name: Soarin' Around the World.
The new version and its newly constructed third screen are expected to open June 17.
"We're taking our guests on this epic journey that spans six continents and shows them some of the greatest wonders of the world like the Great Wall of China," art director Jason Grandt said last week. The sights will be new and the display will be improved, he said.
"The sights you're going to see are going to be stunning, crystal-clear and unlike anything you've ever seen," Grandt said. "Imagineering has sort of created this one-of-a-kind, unique camera system that delivers the highest-resolution film imagery anywhere. … We've coupled that with a new laser projection system."
Disney released a video of the filming, which look like a camera dangling from a helicopter, flying along the Great Wall. Soarin' Around the World riders themselves will continue to dangle in front of the giant screen, Grandt said. Included in the other scenes is the famed Sydney Opera House in Australia.
Eventually, FastPass+ will be available for Soarin' Around the World. Disney has said the interactive queue has been "reimagined."
A new musical score, composed by Bruce Broughton, is based on the original Soarin' score by late composer Jerry Goldsmith. It is performed by the London Studio Orchestra.
But what about the trademark aromas of Soarin'? The new attraction will still use of the sense of smell. But …
"There are new scents," Grandt said. None of the old ones are returning.
My condolences to the Epcot orange-grove fans. (Sniff, sniff.)

Read more at source:
http://www.orlandosentinel.com/travel/attractions/the-daily-disney/os-dewayne-bevil-theme-park-notes-20160428-column.html