Grove Resort & Spa Orlando - Hotel Condo
---
PRESENTATION OF THE GROVE RESORT & SPA HOTEL CONDO:
One of the world's premier vacation destinations, Orlando has a new address at The Grove Resort & Spa, less than 5 minutes from Walt Disney World. 
A 110-acre retreat for those who seek to escape the ordinary and are looking to experience a reality infused with magic and wonder, The Grove Resort & Spa surrounds the serene 20-acre Lake Austin and consists of 878 residences of two and three fully furnished bedrooms and offers resort style amenities including a luxurious lobby, bars, lagoon pool, lazy river, surf simulation pool, full-service restaurant, spa and much more! Owners have the opportunity to stay at their residence while on vacation and the option to place it into a rental program, professionally managed by Benchmark Hospitality, one of the nation's leading hotel management companies.
The Grove Resort & Spa opened its first phase on March 2017. 
REASONS TO BUY:
Located in the center of both adventure and tranquility, Orlando offers a diverse range of some of the best attractions and activities in Florida. World-class theme parks such as the renowned Walt Disney World® and Universal Orlando Resort are just a few of the endless opportunities for the whole family to enjoy.
Located near boating, fishing and restaurant options, Orlando has made a name for itself in fine shopping, nightlife and many outdoor adventures such as skydiving, scuba diving and hot air balloon rides providing getaways for every resident and visitor.
Approximately 875 daily flights with 95,500 passengers.
Visitors spend an average of $91 million, creating 380,000 jobs in Orlando with an economic impact of $54 billion.
In summer of 2019 the new intercity express train service will connect Miami to Orlando. Travel time: 3 hours.
DEVELOPER:
The Grove Resort & Spa's developer, Benchmark Hospitality International, founded in 1980, is a recognized global leader in the development, management, and marketing of resorts, hotels, and conference centers. Today, Benchmark's portfolio consists of unique destinations across the United States, Caribbean, and Japan, with more destinations on the horizon. Included in Benchmark's first-class portfolio is the Villas at Grand Cypress, which was recently voted the #1 hotel in Orlando.
AMENITIES:
ELEMENT: Located in the lobby and adjoining a restaurant, Element Bar features an atmosphere that is both elegant and modern.
HOOPLA FUN&GAMES: A fun kid's center offering arts and crafts, sing-alongs, video games, and more.
ESCAPE SPA: A luxurious full-service spa providing massages, facials, body treatments, and nail services.
THE SPRINGS RESORT POOLS: The Springs is a lush oasis with three large pools, an expansive hot tub, and private cabanas. Roaming food service is provided by The Springs Bar & Grill.
ALFRESCO MARKET: A Grab and Go food market featuring fresh sandwiches, pizza, Paninis, coffee, groceries, and more.
LONGBOARD BAR AND GRILL: casual dining establishment with a covered seating area and roaming poolside service.
SURFARI WATER PARK:  the Grove's own spectacular water park with two-story slides, a lazy river, surf simulators, food & beverage plus nighttime lighting.
ZEST: Just off the Main Lobby, Zest offers an indoor modern décor and green lush outdoor seating. Signature drinks with freshly-squeezed citrus are a favorite.
VALENCIA RESTAURANT: A full service restaurant featuring a combination of Spanish, French, and Italian Cuisine. Breakfast buffets, weekly dinner buffets, and kid's favorites are also featured.
20-ACRE LAKE AUSTIN ACTIVITY: canoeing, kayaking, paddle boats, fishing tours
FITNESS CENTER
MEETING SPACE
FLOORPLANS: 
Prices range from $400,000 to $625,000 depending on the floor number and the views. The 2-3 bedroom units are delivered fully furnished and appointed with all furniture, kitchen appliances and dinnerware, linens, towels, flat screen TVs, full washer/dryer, large closets and more! It's everything you'd expect from a luxury condo hotel resort. Every residence at The Grove also includes a full-size kitchen, large closets and private balcony. Garage parking is available on each floor. Current inventory and actual prices are available here:
http://groveresidences.com/siteplan/


The resale market offers lower price ranges on similar apartments.
PALM | 2 BEDROOMS | 2 BATHS | 1,265 SQ.FT LIVING SPACE | 118 M2 | 73 SQ.FT SCREENED BALCONY |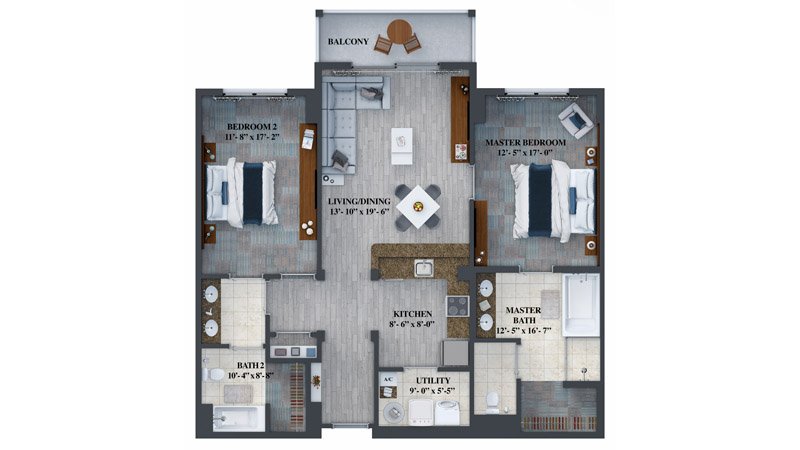 BIRCH | 2 BEDROOMS | 2 BATHS | 1,375 SQ.FT LIVING SPACE | 128 M2 | 73 SQ.FT SCREENED BALCONY |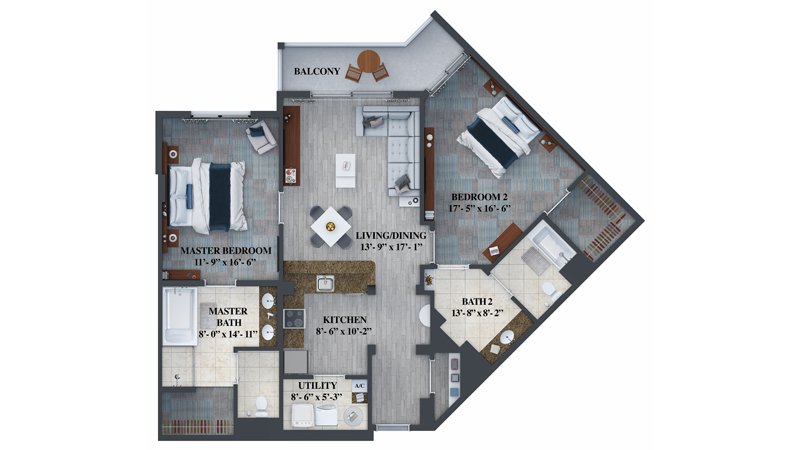 JASMINE | 3 BEDROOMS | 2 BATHS | 1,396 SQ.FT LIVING SPACE | 130 M2 | 72 SQ.FT SCREENED BALCONY |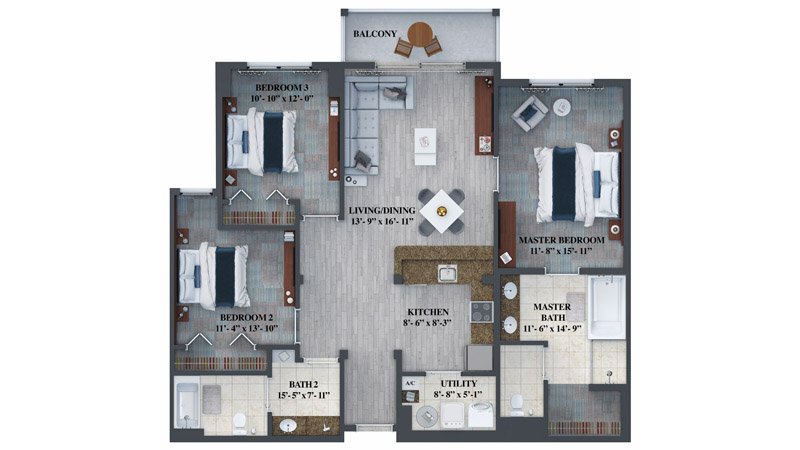 SABLE | 3 BEDROOMS | 3 BATHS | 1,544 SQ.FT LIVING SPACE | 143 M2 | 70 SQ.FT SCREENED BALCONY |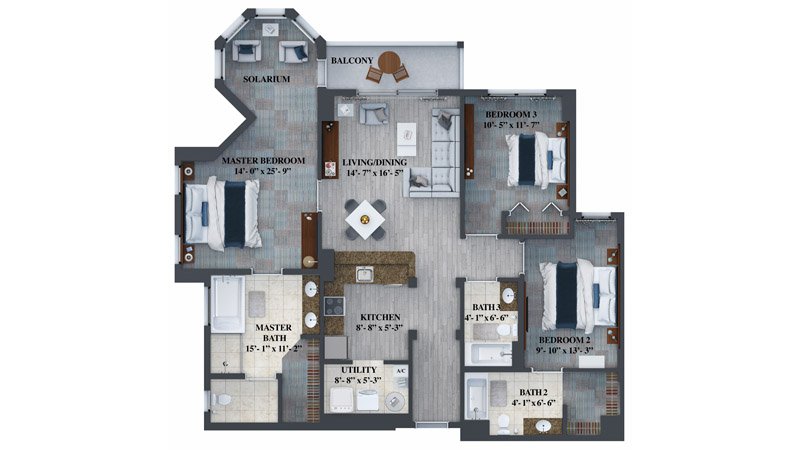 CYPRESS | 2 BEDROOMS | 2 BATHS | 1,434 SQ.FT LIVING SPACE | 133 M2 | 73 SQ.FT SCREENED BALCONY |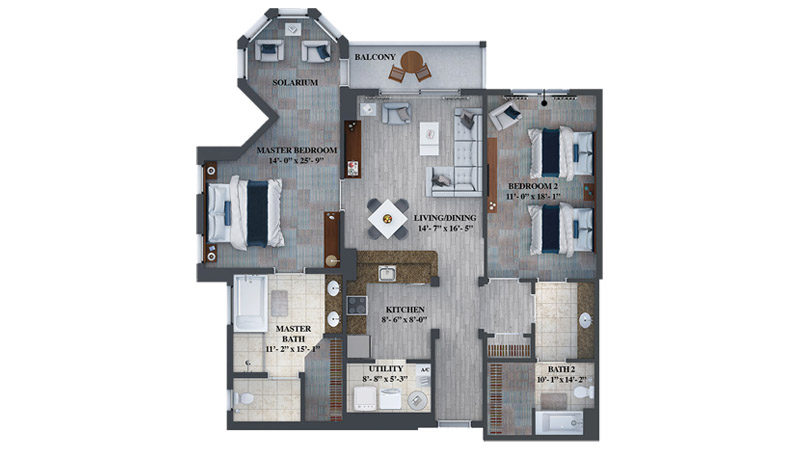 MONTHY HOA DUES:
2 Bedroom/2 Bathroom (1265 sq.ft): $528.77
2 Bedroom/2 Bathroom Corner (1375 sq.ft): $574.75
2 Bedroom/2 Bathroom (1,434 sq.ft): $599.41
3 Bedroom/2 Bathroom (1396 sq.ft): $583.52
3 Bedroom/3 Bathroom (1544 sq.ft): $645.39
SERVICES INCLUDED IN HOA:
Electric Service
Water/Sewer Service
Pest Control
Exterior Building Insurance
Telephone Service
High Speed Internet Service
Cable Television Service
Ground Maintenance
STANDARD RENTAL PROGRAM:
55% revenue split to owner
Nightly rates are based on size of the unit, time of the year, floor number and view from unit. Two bedroom units rates range from $239- $309/night and three bedroom units from $289 - $369/night 
Unit will be refurbished every 5 years (4% deduction of gross revenue into reserve account)
Content and liability insurance it is owner's responsibility
For those who seek to escape the ordinary!